Il primo, da chi ne è uscito:
Intervista di Tilo Jung a Murat Kurnaz, turco-tedesco tenuto prigioniero per 5 anni a Kandahar e Guantanamo senza accuse e liberato successivamente. Molto pacato, per avere subito un'ordalia del genere.
In tedesco, con sottotitoli, oppure trascrizione.
Gab es auch mal einen Moment, wo beide Seiten darüber lachen konnten, also der Wärter und du? Gab es irgendwann mal eine menschliche Verbindung?
Nein, niemals.
Wirklich nicht? Selbst im Gefängnis gibt es ja immer ein oder zwei gute Wärter – so à la "good cop, bad cop".
Gibt es nicht. Unter den Wärtern gibt es keine guten oder schlechten, da gibt es nur schlechte. Es gab zwei, die nicht gefoltert haben.
---
Il secondo, da chi è ancora chiuso dentro:
Le memorie di Mohamedou Ould Slahi, detenuto a Guantanamo da ormai 13 anni, anticipazioni dal suo libro su The Guardian.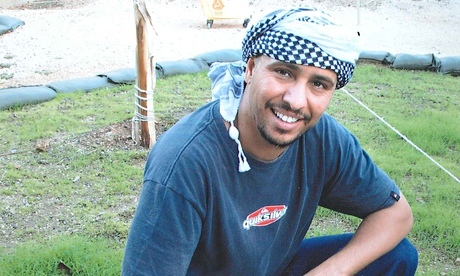 [Guantanamo Diary exposes brutality of US rendition and torture] 5
Memoir serialised by Guardian tells how Mohamedou Ould Slahi endured savage beatings, death threats and sexual humiliation.
_______ turned the air conditioner all the way down to bring me to freezing. This method had been practiced in the camp at least since August 2002. I had seen people who were exposed to the frozen room day after day; by then, the list was long. The consequences of the cold room are devastating, such as ______tism, but they show up only at a later age because it takes time until they work their way through the bones. The torture squad was so well trained that they were performing almost perfect crimes, avoiding leaving any obvious evidence. Nothing was left to chance. They hit in predefined places. They practiced horrible methods, the aftermath of which would only manifest later.